7 Valentine's Day Celebration Ideas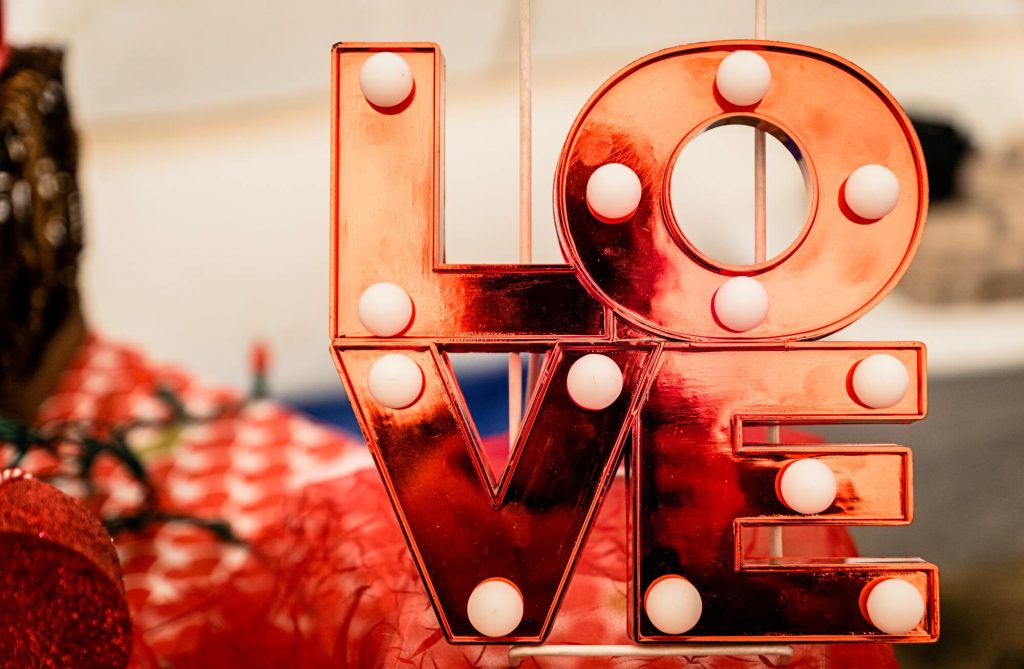 It does not matter if you have been dating for a few months or have been in a long-term relationship with your sweetheart, figuring out valentine's day celebration ideas will keep you up at night. Your BAE will expect you to sweep them off their feet on the day of love. Valentine's day rings in more than romance; it ushers an air of anxiety and fastened heartbeats. And it is all over what to buy for your honey and how to plan the day, so it gets etched in their minds as the best day of the year.
Now, we know planning a valentine's day surprise is no easy task. From fighting over the phone to get a reservation at your favorite restaurant to racing for the last piece of V-day card left in the store or fighting for the tickets to the much-awaited movie that luckily comes out exactly that very day. For a day of love, that's a whole lot of fighting. I think it is time for you to rethink your approach and make changes to how you go about this planning.
Let's see what can be done for you to have a little less stress and a little more fun:
For starters, you might want to plan ahead of time. The last-minute shopping for gifts is sure to give you a bad trip.
Why do you have to reserve a table at the fanciest restaurant in town? It's crowded, and everyone is doing the same. Think out of the box. We will get into the details soon.
So what if you are a little tight on the budget? Your love is more than enough. If not, there's a lot you can do without burning a hole in your wallet. For example, a movie night in the comfort of your home with pizza and a bottle of red is much cheaper than going to the theaters; you can cuddle too.
Without further ado, let's dive into the valentine's day celebration ideas that will make your life slightly easier, if not a lot.
No. One: Home Cooked Meal For Two, Picnic Style
The idea is to stand out from the rest. Every other Romeo is cooking a meal for their lover, but what makes yours so special? You, my dear, are cooking a three-course meal of your love's choice, and serving it picnic style.
Find out what your partner's favorite cuisine is. Pick three moderately easy and less time-consuming dishes. If you are not confident about your cooking skills, rope in BAE for the cooking part. It can be a fun activity shared by two people in love. Once that part is over, here comes the surprise. Pack it up. Also, pack a blanket and a bottle of your favorite drink and pick up some dessert on the way. Find a considerably quiet spot. Note, make sure it's not a children's park. Enjoy your delicious meal prepped with love, with a blue sky above you and the love of your life beside you.
No. Two: Movie Marathon
According to several pieces of research, having a movie night is among the top valentine's day celebration ideas. But why have a movie night when you can have a movie marathon?
If you and your sweetheart both love horror, start noting down all the movies of that genre from a month before Valentine's Day. Pick the top-rated four from your list, and prepare to be thoroughly terrified. Make sure to arrange for some snacks and drinks. Water, please; you will need it from all the screaming.
If you and BAE have movie preferences that are poles apart, V-day is the day you show each other how much your relationship means to you and watch a movie of the other's choice. For instance, you love action, and honey loves drama. Pick two movies of your choice and two of theirs.
You can even look into the list of your guilty pleasure movies. It's your day; go wild.
No. Three: Flowers Can Never Go Wrong
We have two solid plans in our pockets; let's talk about gifts. Flowers never go wrong. It is classy, it's romantic, it's available, and it is bound to make your significant other happy. What more can you ask for from a gift?
If you have been dating for a few weeks now, you are probably yet to figure out her favorites. Not a thing to be worried about; social media is your best friend here. It's not stalking when you are doing it to make them feel special on V-day. Look into their profile and find out their favorite flower. If that is not quite evident, at least find out their favorite color. For instance, if it is red, roses are your best shot. What if it's yellow? Sunflowers! Did you get the pattern?
No. Four: Order In
This one is for those wondering how to celebrate valentine's day in a long-distance relationship. Home-cooked meals are a no-go for you. But you can always order in; food is food.
Remember your favorite chain restaurant where you had a blast with your sweetheart? Order in from there. You can both order the same food or pick out dishes for each other and send it to your respective places. Hop on the video call, and enjoy dinner together. You can always turn on some soft music and light a few candles to set the mood. Enjoy the hearts full of love and belly full of food kind of experience once again, even with distance keeping you apart.
No. Five: Breakfast In Bed?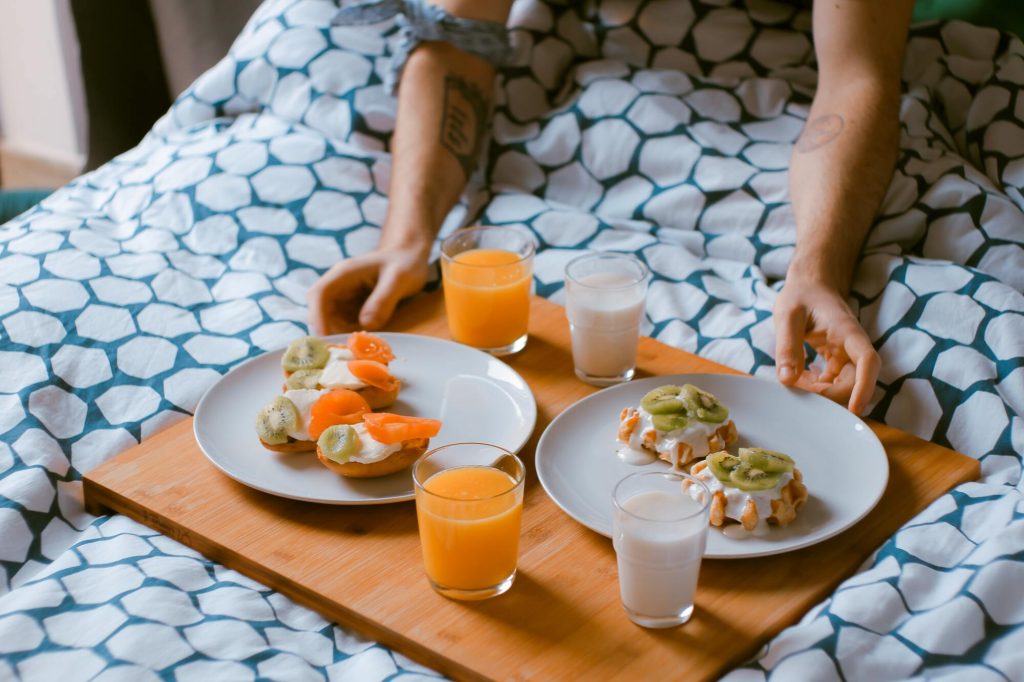 For couples who live together, breakfast in bed sounds like the perfect idea to start the day of love. It doesn't have to be fancy. Even if you make a few pancakes or butter a few pieces of bread, it would not make a difference. It is the thought that counts. Don't forget coffee.
To have an edge over all others who are cooking breakfast for their love this valentine's day, get creative. If your partner is from another part of the country, you can always learn a dish of the region and surprise them; it will not only show how much you love them but also make them feel at home.
Don't forget to leave a note and a single flower.
No. Six: Promise To Gift Handmade Gifts To Each Other
Nothing beats DIY gifts. You can't go wrong with it. No matter how ugly it turns out, the personal touch fixes every shortcoming. Get down and get creative.
What are the few DIY gifts you can make for your partner?
A card! Write a love note or, even better, an inside joke.
Coupons; each offers a different service, like one free hug, one free kiss, and so on.
Mixed tape.
Collage of your pictures from every milestone you two crossed as a couple.
No. Seven: Plan A Valentine's Day Getaway
Among the top most romantic valentine's day celebration ideas, planning a getaway easily steals the spotlight. Have you two been planning on visiting somewhere for a while now? This is your chance.
You can always plan it ahead of time and surprise BAE. Imagine how exciting it will be if you just call them up at midnight on the 14th of February, wish them a happy valentine's day and ask them to pack up for a dream vacation.
Note: If they are working professionals, please plan the trip along with your partner to avoid a huge blunder.
A Note from QuackQuack: 

End of the day, it does not matter how much money you spent or how expensive your gift was; effort counts. Valentine's day is about love and expressing the same for your partner. If you have been packed with work or were working through an emergency, it is okay that you couldn't plan anything fancy. Some of these ideas are useful for the ones planning it at the last moment.
The idea is to make your significant other happy every single day of your life together, not just this one day.
Note: Image credit to unsplash.com