40 Flirty Texts To Make Him Laugh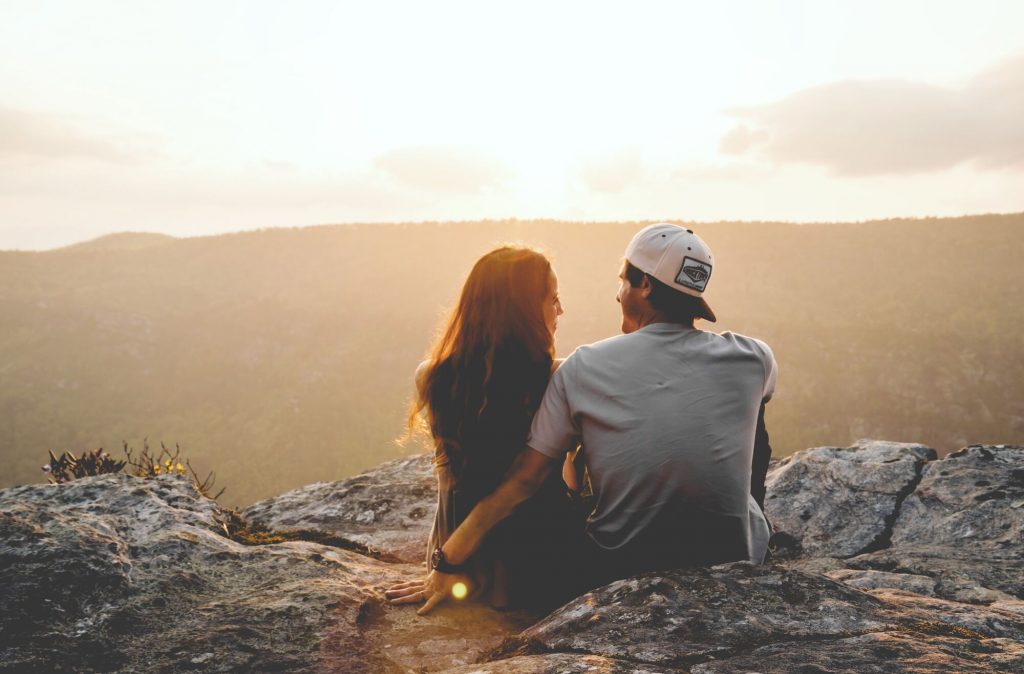 Flirting is a big part of dating. It does not only mean the art of light touching and the batting of the eyes; it also means sending your BAE text messages that make him laugh by himself. So, why don't you start sending flirty texts to make him laugh today? Oh, I get it. You don't know where to start. That's alright. The best of us struggle with the same.
If you are feeling shy or nervous sending him flirty texts, understand that the text is a reminder to him that he is in your mind. Flirting through text requires mastering the perfect balance. It works best when you add a little humorous twist to your flirty texts. It is the best way to connect to your date or to deepen your connection with your long-term boyfriend. Flirty messages help you keep the spark alive even when your relationship is mundane as doing your daily chores. And it is not only fun for your partner; if done right, it can be equally fun for you.
But we do understand the challenge. It can be tricky. How much is too much? What is putting too little effort? When are you crossing the line? Should you continue texting them? There are a myriad of questions that come to mind when you think of sending your sweetheart a flirty text. Let's answer them before we suggest flirty texts to make him laugh.
How much is too much?
There is really no such limit. During the initial phases of dating, it is best if you keep it to a minimum of three to five flirty texts a day. When you have been in a long-term relationship, the sky is your limit.
What is putting too little effort?
If fear or nervousness is keeping you from sending him flirtatious messages and trying to connect better, then that is you putting too little work into your relationship. Text away; what's the worst that can happen? They won't reply.
When are you crossing the line? Should you continue texting them?
When you were writing the message, did you cringe? If you did, you certainly crossed a line and knew it in your gut. Other than that, if your date or your partner, directly or indirectly, shows disinterest in your flirty texts or they express their dislike for the same, you will be crossing the line if you continue to send them flirty texts.
Okay, now that we have this cleared up, let's see some flirty texts that would surely put a smile on his face.
#1 Funny and Naughty
When you are crafting flirty texts to make him laugh, mixing a hint of humor with naughtiness keeps everything perfectly balanced out. Here are some examples:
My parents are out; want to come over? I mean, they have been out for the last five years since I lived in a different city. But still, wanna come over?
I have three magical words to tell you. Bring. Some. Pizza.
Did you ever get arrested? I mean, looking this hot is a criminal offense.
You are so hot that I am worried you might worsen the global warming issue.
This Christmas, when Santa asked what I wanted, I sent him your photo.
#2 The Not Too Subtle ones
Among the not-too-subtle flirty quotes for him to make him smile, here are the top picks:

I want to see you again. Pick a day; anyone that ends with a Y.
What's the one thing that's even better than French Fries? Your love; fewer calories.
You are so sweet; I might become diabetic loving you.
You remind me of someone. Oh, wait; it's my future boyfriend.
I am not a photographer, but I can picture the two of us living happily ever after.
#3 The Ultra-Sweet Ones
Whether you are looking to send flirty texts to your boyfriend or searching for flirty texts to make her laugh, these sweet messages will work for all:
If you were a vegetable, you would be a Cute-cum-ber.
I wish I were kissing you instead of just missing you.
You make me a better person. Stay with me so that I can keep getting better.
Your hugs are like a blanket on a cold winter day.
If you were a shape, you would be a triangle; because you are a-cute.
#4 The Cheesy-Flirty Ones
Let's take a look at some flirty texts to make her laugh; these will work equally well on him:
Are you free? I mean for the rest of your life.
I am so distracted today. I can't stop thinking about you.
I bought you something; it's a one-way ticket to my heart.
Did it hurt? I mean, when you fell from heaven.
I wish we were on a keyboard. U and I will always be together.
#5 Flirty Questions
Let's try something different. Instead of sending flirty texts to make her smile, or make him smile, let's send some flirty questions:
What would you say if I told you I love you right now?
Did you know you are my world?
What do you prefer to be; the big spoon or the little spoon?
Can you see me falling? For you!
I am an amazing hugger. Want a test run?
#6 Good Morning Flirty Texts
What's the first thing you want to see in the morning? It's either your sweetheart's face or at least a text. Here are some flirty good morning messages that are sure to make his day:
I dreamt of you all night long. It's morning now; let's make my dream come true.
Hey handsome; wake up, or my morning won't start.
I was not a morning person until I met you. Good Morning!
Wakey, wakey, sugar cakey!
It's cloudy outside, but you are my sunshine. You brighten my day!
#7 Flirty Good Night Texts
Send your guy flirty good-night texts and keep him thinking about you all night long:
Go to sleep; we'll meet in your dreams.
You are always with me, even in my dreams.
See you in my dreams? Good night!
Every night before I go to sleep, you are my last thought.
I can't wait to wake up and be in love with you. Good night. 
Read : 5 Advantages Women Have While Flirting With A Match
#8 Random Flirty Texts
Here are some flirty texts you can send BAE any time of the day:

Hey, how do you like my outfit? It's girlfriend material.
Just like French fries, I can't get enough of you.
Hey stranger. Let's stop being strangers. (send this to ask her out on a date.)
Do you have plans for this weekend? Yes, you do. You are going on a date with me.
Just dropping a text; you might be missing me.
Final Words
It is no easy feat coming up with flirty texts to make him laugh. But when you have met the right person, they are worth putting in the extra effort to figure it out.
Note: Image credit to unsplash.com