5 Best First Date Gifts For Her : Prepare to Impress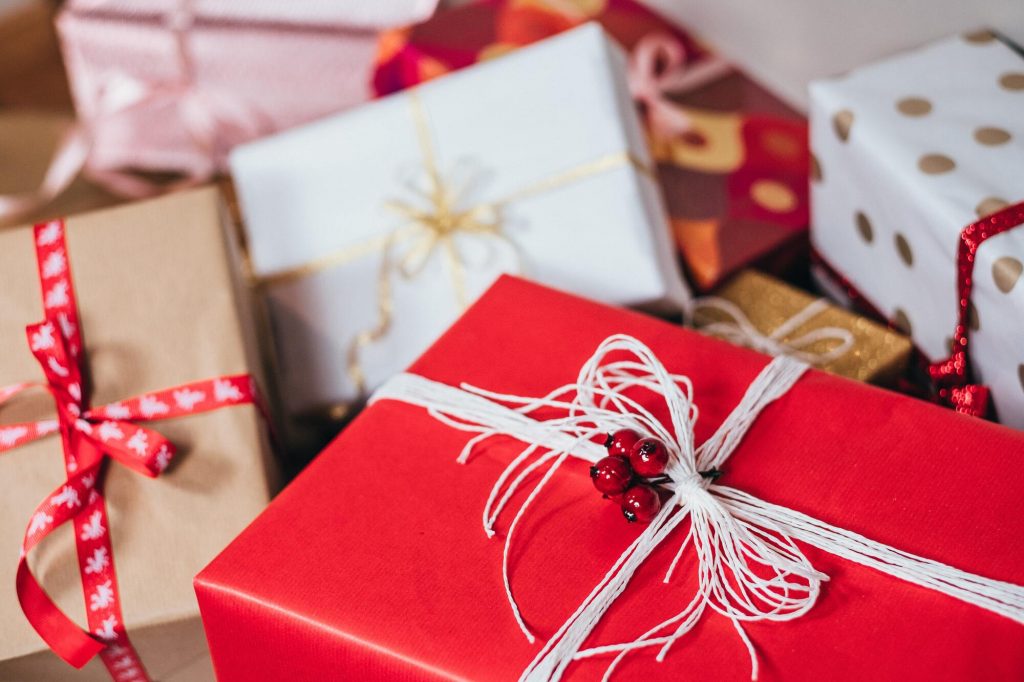 Are you preparing for your first date? It can be a nerve-wracking experience. Don't worry; you are not alone on the boat. If you look around, there are thousands just like you, dreading the idea just as much as they are excited.
If you think buying a gift for your lady love will help you break the ice, you are correct. Who doesn't love gifts? And it gives you a perfect opportunity to show your pampering side. But what should you buy; what would be the best gift on a first date? First, there are these butterflies in your stomach from the idea of meeting her for the first time, and now you have to wrack your brain figuring out what would be best, what would help you impress her, and give you an edge.
Okay, let's get you calmed down about the date part before we get into the best first date gifts for her.
The adrenaline before going on the first date can make you unnecessarily conscious. It is hence best to practice a few easy steps to make sure you don't add to your list of worries.
Get there on time: Punctuality matters. If you live a bit far away from the location of your date, plan ahead of time. Don't forget about the traffic. It tends to appear more on days you are in a hurry. Yes, arriving a bit early might make you seem too eager, but it's far better than being late on your first date. Nothing leaves a worse impression than that.
Dress to Impress: No, I am not asking you to wear a tuxedo. But don't go wearing your gym shorts or a crinkled shirt. Make sure your clothes are freshly washed and ironed and do not stink. That is all women expect of you.
Practice some talking points: Practice makes perfect. You can google some meaningful questions to ask your girlfriend or date if it's too early to call her your GF. Mix those up with some personal questions. Not too personal, though. Find a balance. Make sure to open up about yourself if you expect her to do the same.
Have a mental map of the date: Yes, you have planned where to go for the date, but it will help if you have an idea of how you want the night to proceed. Do you want to sit in the restaurant and chat her up or go for a walk and an ice cream once you are done with dinner? Plan it.


Be a gentleman: Pull her chair. I hope you know I am not talking about pranking her. Let her pick the food, offer to pay, don't overstep if she wants to split the bill, and more. These gestures make a difference.


Buy first date gifts for her: Yes, we are back to where we started. Let's talk about what can be the best gift on first dates.
Number One in Best Gift Ideas: Roses? No. Gift Her her Favorite Flowers.
While roses are a classic, you know what would be even better? Gift her the flowers she is fond of; comb through her social media accounts, and you will find the answers. If not, find some hints. If you can't uncover even that, at the very least, you will know she does not enjoy flowers and drop the idea.
Flowers are a great first date gift. It is uncomplicated, it is sober, and there is no way you will land yourself in trouble by gifting her flowers on your first date.
While a single flower looks very classy but that is only unique to some. For instance, a single rose looks good, but a single lily, not so much. You can get her a bunch or a bouquet to be on the safer side. Did you at least find her favorite color? If it is yellow, sunflowers would be an impressive choice. It has a theatrical appeal to it. And even if there is no second date, she will remember you as the guy who gifted her sunflowers. So cute!
Number Two on Best Gift For Girlfriend On First Date is Jewelleries: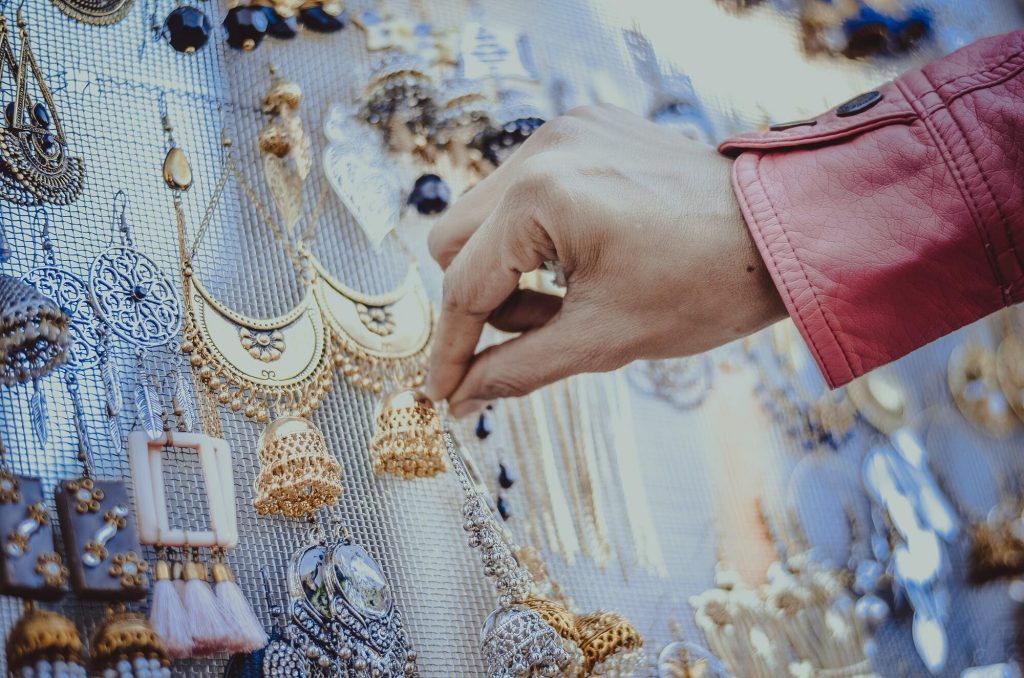 Nothing too expensive. You can get her a trinket or afghani junk jewelry is very much in vogue. No matter what her style is, women love jewelry. Something like a piece of jewelry can never go wrong as a simple yet effective first-date gift idea.
Don't be worried about what jewelry to buy. Here are some ideas:
Find out if she loves wearing earrings. Again, go to her social media handles. All the answers are right there. If you find her wearing different earrings on different occasions or matching them with her outfit, it is evident that she loves them. You can gift her an earring.
Did you know most women are giving more preference to ethnic looks nowadays, compared to their obsession with the western get-up a few years back? You can buy her some junk jewelry; quirky necklaces, statement rings, or a pretty bracelet.
If you think jewelry is too basic, you can always gift her silver bookmarks, a charm, and styling chains if she wears glasses. There is really no end to creative and stylish gift ideas. 
Also read : Things To Avoid On Your First Date
Number Three on First Date Gifts For Her is DIY Gifts:
Nothing screams "I care" more than a DIY gift. It shows you are interested and you are ready to put in the effort to woo your lady. And if you are struggling to find some sweet gift to impress your date and are not a fan of store-bought items, then DIY is your best friend. It offers you the chance to put a personal touch to it, and who knows, might be the very thing that leads you two to end up together.
If there is something that women love more than verbal compliments is DIY gifts. It doesn't matter how it comes out; in the end, it is the thought that counts. Your DIY gift does not necessarily have to be a card or photo frame; that is so last year. You can actually find out if your BAE has a hobby and set up a gift basket accordingly. That counts as DIY; you are the one doing the research, shopping, collecting, putting the basket of goodies together, making it aesthetically pleasing, and don't forget a handwritten note.
For instance, if your date loves gardening, you can collect gardening supplies and gift her a goodie bag full of gardening essentials. It goes to show how much thought you put into getting her this unique gift. If she is an avid reader, get her a basket full of classic hardcovers, some quirky bookmarks, and maybe a pencil to make notes. These are all such cute gift ideas for her.
Number Four on 1st date gift ideas for her is Sweet Indulgence!
Trust me; nothing beats chocolates. It may be too simple, but there's a certain charm in this simplicity. This sweet indulgence will make a great impression on your sweetheart.
There are some risky gift ideas out there, but let's save them for later. For now, it is best to stick to the classic. Classics never let you down.
If she doesn't like chocolates, not sure who doesn't like them, you can always buy her more fancy sweet indulgences. For instance, some assorted cookies made with natural sweeteners can be less on the sugary side. Honey cakes are also a great option. These are enough to satiate her cravings on one of those awful days when everything is going wrong and remind her of the person who was thoughtful enough to bring her these; you!
You can always make her a box of homemade cookies or brownies. It will let you show off your cooking skills and efforts; one sweet, two birds. And did you know most women adore a man who can cook?
Number Five on The List is Personalized Gifts.
It can be anything, from a teddy bear with her name written on its heart to a pendant with her initials engraved on it; a personalized gift can come in any form.
If she is fond of painting, you can get her a set of paintbrushes with her initials on the brushes. An even more unique idea is to find her favorite flower or the flower associated with her birth month, and gift her a pressed flower statement pendant or ring. If your date has a pet, you can get her a collar with their initials on it; no one touches the heart of a pet parent more than people who show interest in their fur babies.
Final Takeaway
Whatever you decide to gift her, your thoughts and emotions behind the idea should count more than the gift itself. If you paid attention to her when she opened up to you, it should not be too hard to think of something imaginative and out of the box.
The idea behind giving her this gift is to show how thoughtful you are. These ideas should help you figure out something that hits the perfect spot between trying too hard and not trying at all.
Note: Image credit to unsplash.com